I have a hard time leaving my work "compound" during working hours unless I have appointments. So, after I met with my client, Linda Wehrli of
Pastimes for a Lifetime, Inc.
, I decided to stop by the perfectly social but not too social (loud, in other words)
M Street Coffee
on Moorpark. Ms. Wehrli had hosted her student piano concert at M Street on Sunday evening. A great setting to discover this little neighborhood gem while I photographed the students post their wonderful holiday, classical and jazz piano performances (see photos).
The bright interior of white-washed walls with a new collection of art, Recycled Art Series, is strategically arranged for the guests to see as they walk in, order their drink of choice and sit at tables, the one gray couch or multiple cushie ottomans. Indie music plays lightly so not to disturb those working on the free Wi-Fi available for customers.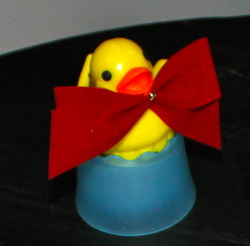 My yellow duckie tea steeper from M Street Coffee.

The vibe is cool, the cups are Karat Earth Cups (compostable) and there are treats to eat, drink and purchase as gifts. I bought several yellow duckie tea steepers as holiday gifts. Cute, right?

Well, it's 2:54 pm and I have to get some work done.

Until then, bottoms up!